Georgie B. Goode Australian RV Series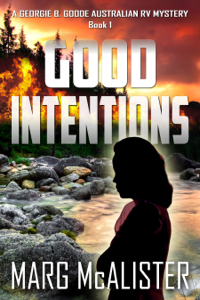 GOOD INTENTIONS (Book 1)
An idyllic rainforest that holds dark secrets.
A cold-hearted criminal and a woman on the run.
A bushfire, racing across the Australian bush, eating up everything in its path…
None of this is quite what Georgie B. Goode, 8th generation gypsy, expected in her first month in Australia!
After telling Georgie that 'one day' he will take her to visit all the places he has told her about in Australia, Scott Mowbray has finally persuaded her not only to visit, but also to spend a year exploring the country with him.
But…well, you know Georgie. She couldn't leave her crystal ball behind, and just because she's way 'Down Under' in the southern hemisphere, that doesn't mean that she will stop attracting trouble!
People who need Georgie and her special skills always seem to find her, wherever she is. Georgie is visiting Scott's parents on the Gold Coast Hinterland in Queensland, Australia, in a little place called Canungra, near Tamborine Mountain. It's an idyllic place, cool and green and beautiful. There, Scott's parents, Louise and Tony Mowbray, have established a private campground for RVers on their family property. As an act of kindness, they let a lone traveller called Shirley stay on as their caretaker.
But Shirley has a secret. She's running from something in her past, and her past is about to catch up with her…just as everyone else is running from the bushfire that threatens to take away everything the Mowbrays have worked for.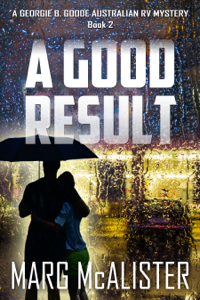 A GOOD RESULT (Book 2)
Two women in crisis.
A saboteur in the shadows.
A town looking the other way…
Not even an hour after they arrive in the seaside paradise of Yamba, Georgie knows that Scott's sisters Viv and Lissa are in trouble. 
Month after month, their fledgling business Coffee, Cakes & Crepes has been plagued by problems. At first, Viv and Lissa think that they are just unlucky. An old building, growing pains, a run of bad luck…they are convinced that it will all blow over.
Finally they have no choice but to face facts: it just isn't possible that all these mini-disasters can be a coincidence. But who wants them out so badly that they'll stop at nothing? 
Viv, Lissa, and Georgie find themselves looking suspiciously at anyone who walks through the door, but an attempt to find out who and why is sure to be a great way to alienate the townsfolk. They have to live in this town, after all. 
But who is it? The town gossip who just happens to be there when things go wrong? The girl who cold-heartedly stole the man that Viv was in love with, and who would be happy to see her gone? The tetchy old-school cafe owner and his downtrodden wife across the road? Or is it someone else who is hiding in the shadows, taking every opportunity to destroy their livelihood?
Why?
This time, for Georgie and Scott, the stakes are high indeed. 
This is family.
This is personal.