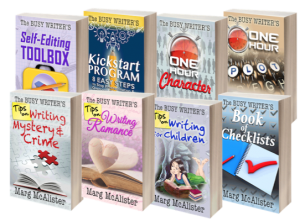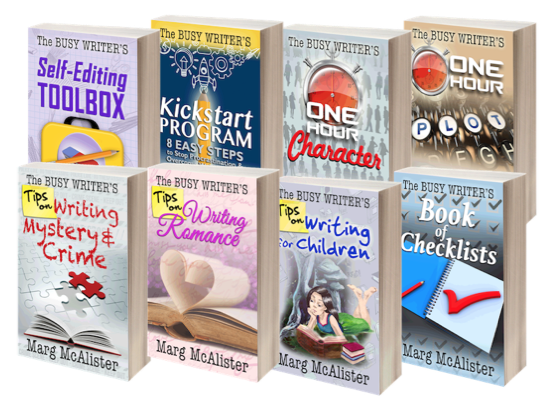 The Busy Writer series of how-to books was created with one main idea in mind: we're all busy, and we want to know how to do things in the simplest, quickest way possible!
You'll find the most important information you need laid out concisely so you can take action steps immediately to get your writing life organized and get your story published! (Well, let's hope it's more than one story…) Links have been included to extra articles and information online, so when you're ready to dig deeper, the information is there! Take a look at the blog posts on this site to help you on your writing journey.
The Busy Writer's Kickstart Program: The Busy Writer's KickStart Program gives you an 8-Step Plan to get your writing on track again – or to set you up for success from the very start, if you're a beginner. You will learn:
How to clear your life from physical, mental and emotional clutter
How to treat your writing like a project, so you stay on track
How to set yourself up for success by changing the way you look at time
Typical roadblocks for writers and how to get past them
The importance of feedback, support and rewards
Strategies for improving your technique
Insights into plotting and characters
How to keep yourself heading along the road to success
You can follow an 8-week plan, assigning one week to each step, or modify the KickStart Program to suit your way of life and your writing agenda.
The Busy Writer's One-Hour Plot will show you how to sit down with a timer and a handful of index cards, and work out a solid framework for your story… in just 60 minutes. It also shows you:
How to prime the pump (so the ideas flow during that 60 minutes)
How to tweak your plot (you have the framework – now start fleshing it out)
How to use sub-plots
How to write a good ending
How to add a twist
Where to find further resources
The Busy Writer's One-Hour Character shows you how to come up with the Lead Character, other major characters, and a solid supporting cast – in just sixty minutes!
No matter how good your plot is, if you don't fill the pages with vibrant, interesting characters, your book won't reach its potential – and you won't win hordes of raving fans.
Team the One-Hour Character with the One-Hour Plot, and you'll have your plot and characters sorted out in less than the time it takes you to go out to dinner!
The Busy Writer's Book of Checklists: In this indispensable writer's aid you will find 23 checklists for writers, including 6 Foundation Checklists (Getting Ideas, Plotting, Characters, Viewpoint, Dialogue, and Scenes); 3 checklists for Setting and Subplots, and 4 checklists on organizing your time, your work space, your files and your projects.
Here it is… every writer's 'bible' for getting a fast start on writing your book. Now it's up to you.
The Busy Writer's Self-Editing Toolbox: In this handy self-editing guide, you will discover:
How colour-coding can give you an instant snapshot of any problems with repetitive phrases, dull dialogue, style and tone, and problems with person or tense
Common errors made with viewpoint, and how to fix them
Important understandings about viewpoint
How to edit and polish dialogue so it sounds natural
The DOs and DON'Ts of writing dialogue
How "too much" of anything can ruin your story and alienate your readers
General tips on building your skills
You will find that with the Self-Editing Toolbox at your elbow, you will understand exactly what you need to do so your story moves from being just average to one that wins you a loyal band of readers.
The Busy Writer's Tips on Writing Romance equips you with the knowledge and tools you need to get started quickly in this popular genre, as well as pointing you in the direction of further help when you need it.
In this book, you will find:
General tips on writing romance fiction
Tips on creating vivid, believable heroes and heroines
How to hook your reader
Where to start your story
Tips on creating emotional punch (all-important in any romance!)
What 'show, don't tell' really means
Tips on conflict, pace and tension
Tips on creating a romantic setting
Tips on plotting a romance novel, with a Basic Plot Outline ("Add your own seasoning"!)
An overview of romance sub-genres
Sensuality versus sexuality
How to build sexual tension
Three handy checklists – Emotional Punch, First Chapter, Setting & Sensuality
The Busy Writer's Tips on Writing Romance will have you writing for this popular, evergreen genre within days!
The Busy Writer's Tips on Writing Mystery and Crime: A glance at any best-seller list will tell you how popular mystery, crime and thrillers are with readers. Most of you will find this perfectly understandable! There's nothing like the thrill of the chase and the intellectual challenge of trying to guess 'whodunit' or 'whydunit' before the sleuth.
If you're the writer, this presents you with a challenge. You have to juggle a lot of balls at once. You need to:
come up with an intriguing mystery (or an edge-of-the-seat thriller) that will keep readers up long past bedtime
keep your sleuth busy tracking down the perpetrator
weave in and bring to life other significant characters
leave a trail of not-too-obvious clues (trying to pull the wool over the reader's eyes), and
walk in the shoes of the villain, ensuring that he is a worthy opponent.
Oh, and did I mention that you have to write tight scenes, build the suspense, create believable conflict, and choose the correct viewpoint as well? Not to mention the research…
Good thing, then, that this is all covered in The Busy Writer's Tips on Writing Mystery and Crime!
The Busy Writer's Tips on Writing for Children gives you an overview of the different categories of children's books, and shows you how to decide which one would be the 'best fit' for you.
The book includes:
10 Tips on Writing for Children
An Overview of Children's Book Categories
Writing Picture Books (including "10 Common Mistakes in Plotting Picture Books", and tips on how to think in pictures, fine-tuning your text and pictures, and writing in rhyme)
Writing Stories for Children 6-12 (short books and chapter books for emergent readers; middle-range story books for 6-10 years and longer story books for 9-12 years)
Writing for Young Adults (including 3 important tips on writing YA fiction and ideas about what to write for this market)
Writing Non-Fiction for Children (including tips on finding non-fiction ideas and fine-tuning your ideas)
Tips on Plotting (including the basics of a workable children's book and a handy plot outline)
Tips on Creating Characters (how to make your characters seem real; how to create a story from a character; where to find good story characters; a look at stereotyped characters and tips on how to introduce your characters)
Tips on Writing Dialogue (what you should include; how to set out dialogue; setting conversational goals; speech tags and action tags and a dialogue troubleshooter, with tips on fixing dialogue that doesn't sound right)
The book also tells you how to access to bonus plot and character sheets that you can download to your computer, print out and fill in to create your own special story.