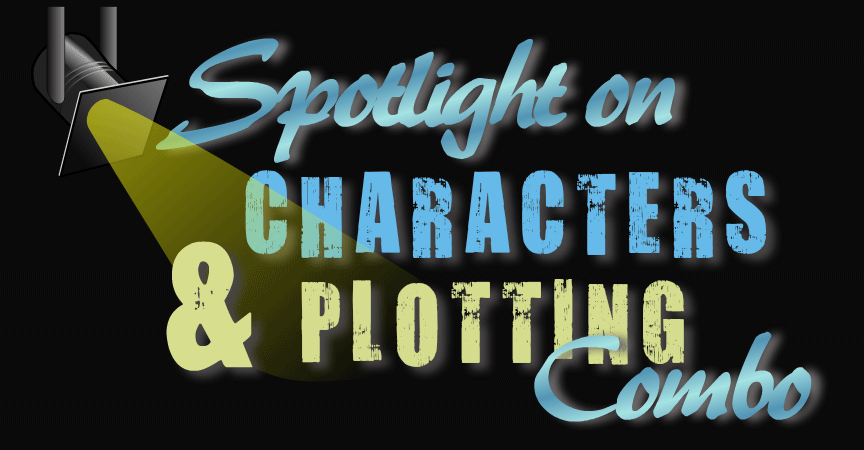 Work on plot and characters together and watch your story take off!
Characters influence the plot…events shape characters.
Your plot and characters are so intertwined that you have no choice but to think about them in tandem. By taking both courses concurrently you give yourself the best chance to see your story come to life. 
Sign up once for both!
What you get with the 2-Course Combo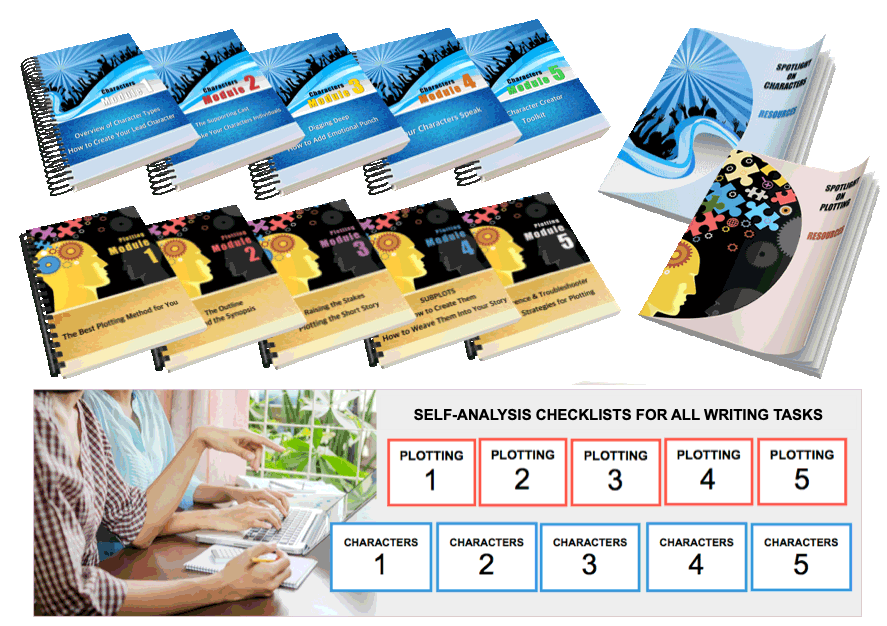 5 Course Modules on Plotting: (1) The Best Plotting Method for You; (2) The Outline and the Synopsis; (3) Plotting the Short Story and Raising the Stakes; (4) Subplots; (5) The A-Z of Plotting
5 Course Modules on Characters: (1) The Overview of Character Types and Creating Your "Lead"; (2) The Supporting Cast; (3) Why Emotional Punch is Vital to Your Success; (4) Your Characters Speak; (5) The Character Creator Toolbox.
Plotting Resource Book
Characters Resource Book
Self-Analysis Checklists on 10 writing tasks: 5 for Plotting; 5 for Characters
All other bonuses included with either course
Recommended: For course participants who are in Kindle Unlimited: you can borrow these six books free for extra insights into various aspects of plotting, characters, self-editing and kickstarting your writing journey!

For more detail about each course, check out the individual course pages (see links below)
"After Marg reviewed the first 10 chapters of Malicious Intent, I sent them to a major publisher and was offered a two book deal!" 
"Malicious Intent became a bestseller in Australia and has sold to the USA, UK and Canada. All the positive reviews about the strength of the plot and characters reflect on Marg's teaching. Her constructive comments were also mirrored by my editor at Pan Macmillan, which showed how on the ball Marg is about the publishing industry. Without doubt, Marg McAlister is the best writing teacher and mentor any writer could hope for. I'd recommend her courses to anyone wanting to improve their writing." (
Kathryn Fox, best-selling author of mystery/thrillers including Malicious Intent and Without Consent. www.KathrynFox.com)
"BRILLIANT! 

This course will help spark your creativity and add oomph to your characters."
"Entertaining and upbeat, each module offers something special that will help put the fun back into your writing. Marg's tips and techniques will get your brain ticking faster than you can shout 'best seller.'
Whether you're a beginning writer or have a few books under your belt, I think you'll find this course a fabulous investment. I highly recommend it." (Jill McDougall, Author with over eighty publications to her credit)

"I can't begin to tell you how much I've learned from Marg McAlister's courses and books.
Today I'm launching a series of short, fun reads for mothers, and it's largely due to Marg's support and tutelage that I'm able to do so.
"Marg emphasises the things you need to understand in a clear, succinct manner. She starts with the big picture, then she gives you the important details.
If you want to have a successful career as a writer, go to Marg McAlister first, and the others last. (Wendy Nichols, alias Older Mummy, main writer at www.mummiesanonymous.com)
Read the full ecourse description
Read the full ecourse description
If you choose to donate, click the 'DONATE' button on the right and pay whatever the course is worth to you. There is no lower limit.
 If you are not in a position to pay anything right now, click the 'GUEST' button on the right. No questions asked!