Book List, New Releases and Free Reads!

Join my author newsletter…
Your very first email will contain a gift – a free ebook, available only to my readers!
FORTUNE'S WHEEL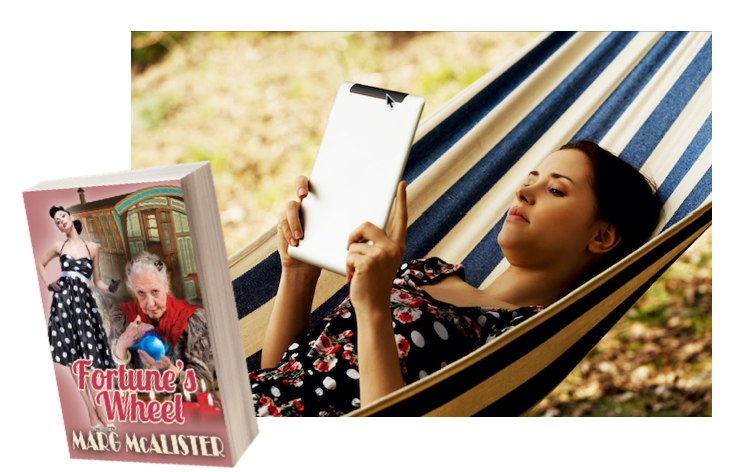 So many of my readers were curious about Rosa's early life, and whether Georgie showed any potential to see the future as a child… finally I gave in and wrote Fortune's Wheel to give you a peek into what made Georgie who she is! I hope you enjoy reading it.
To collect your free book (and other good stuff and freebies in the months to come) just fill in your details below to tell us where to send it.
(Remember to check your email inbox for an email from me… and click on the link there so you can receive your freebie!) 
For more of Georgie's Adventures…
The Georgie B. Goode Gypsy Trailer Mystery Series – Series One
Book 1 – Good to Go 
Georgie B. Goode decides to take to the road in a vintage gypsy trailer, but finds herself up to her neck in trouble from the very first stop!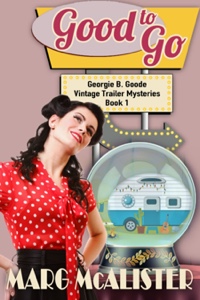 Book 2 – Georgie Be Good
When Sarah West turns up at a vintage trailer rally to see if Georgie can help her falsely-accused husband, Georgie just can't bring herself to say 'no'.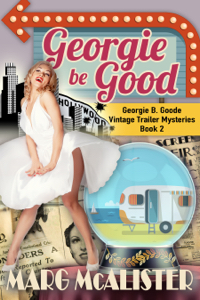 Book 3 – Good Riddance
Georgie meets a teenage boy who seems more set on having her arrested rather than seeking her help….but she knows that there's more behind his muscles and acne scars than meets the eye.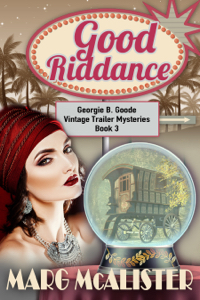 Book 4 – Up to No Good
Georgie's brother Jerry starts specializing in building Bug-Out vehicles for survivalists — but then he disappears. It's time to forget family feuds and start looking.
Book 5 – In Good Hands
Jaxx Saxby is widely known as "The TV Presenter from Hell", so it's a very a reluctant Georgie that finds herself back in Elkhart to take part in a cable TV special. Then Georgie realizes that Jaxx is in grave danger…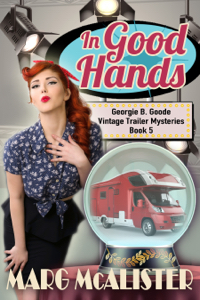 Book 6 – Too Good to be True
Twelve-year-old Charlotte Draper begs Georgie for help to clear her older brother, Ricky, of the crime of which he's been accused. Will he be welcomed back into the family?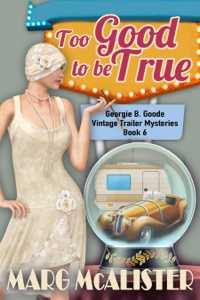 Book 7 – As Good as it Gets
Behind the cheerful music, the clever stunts and the flamboyant costumes at Callaway's Circus, there lurks a traitor: a heartless saboteur who wants to put the family out of business – at any cost.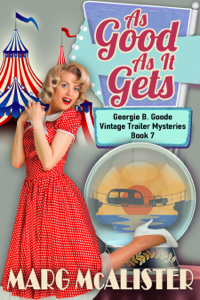 Book 8 – Good Golly Miss Molly
Miss Molly, loved by everyone in the vintage trailer community, is in trouble. Someone close to her is to blame – but who? One of the waifs and strays that she welcomes into her home? Or someone she considered a friend?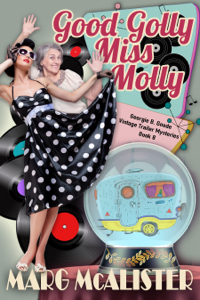 Book 9 – Good Vibrations
At a week-long 60s-style beach party with her friends, Georgie takes time out to locate a missing child. All too quickly, things take a turn for the worse.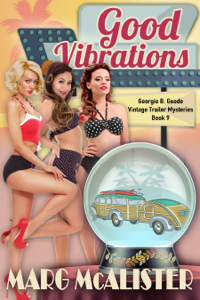 Book 10 – A Rocking Good Christmas
Georgie doesn't usually stop for hitchhikers, but she is sure that Santa Claus is a pretty safe bet! Unfortunately, she's wrong — but by the time she realizes she's in big trouble, it's all too late.
Get The Entire Collection!
Enjoy all of Georgie's adventures: Books 1-10 in one convenient bundle. Hours of reading fun!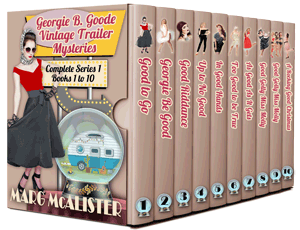 DON'T MISS SERIES 2: GEORGIE DOWN UNDER
Georgie decides to get away from it all by going with Scott for a nice, peaceful visit to Australia.
Hah! His family has other ideas…uh oh: more madcap adventures and challenges for Georgie!
BOOK 1: GOOD INTENTIONS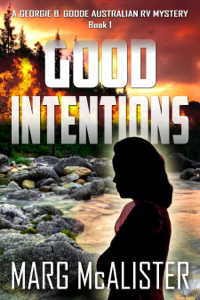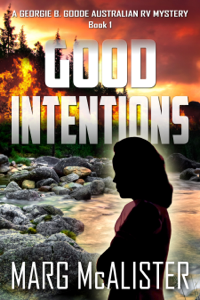 An idyllic rainforest that holds dark secrets.
A cold-hearted criminal and a woman on the run.
A bushfire, racing across the Australian bush, eating up everything in its path…
None of this is quite what Georgie B. Goode, 8th generation gypsy, expected in her first month in Australia!
After telling Georgie that 'one day' he will take her to visit all the places he has told her about in Australia, Scott Mowbray has finally persuaded her not only to visit, but also to spend a year exploring the country with him.
But…well, you know Georgie. She couldn't leave her crystal ball behind, and just because she's way 'Down Under' in the southern hemisphere, that doesn't mean that she will stop attracting trouble!
People who need Georgie and her special skills always seem to find her, wherever she is. Georgie is visiting Scott's parents on the Gold Coast Hinterland in Queensland, Australia, in a little place called Canungra, near Tamborine Mountain. It's an idyllic place, cool and green and beautiful. There, Scott's parents, Louise and Tony Mowbray, have established a private campground for RVers on their family property. As an act of kindness, they let a lone traveller called Shirley stay on as their caretaker.
But Shirley has a secret. She's running from something in her past, and her past is about to catch up with her…just as everyone else is running from the bushfire that threatens to take away everything the Mowbrays have worked for.
BOOK 2: A GOOD RESULT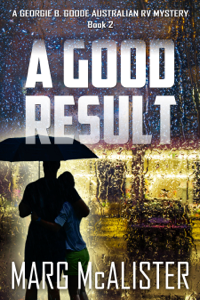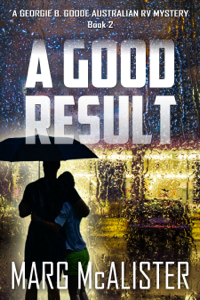 Two women in crisis.
A saboteur in the shadows.
A town looking the other way…
Not even an hour after they arrive in the seaside paradise of Yamba, Georgie knows that Scott's sisters Viv and Lissa are in trouble. 
Month after month, their fledgling business Coffee, Cakes & Crepes has been plagued by problems. At first, Viv and Lissa think that they are just unlucky. An old building, growing pains, a run of bad luck…they are convinced that it will all blow over.
Finally they have no choice but to face facts: it just isn't possible that all these mini-disasters can be a coincidence. But who wants them out so badly that they'll stop at nothing? 
Viv, Lissa, and Georgie find themselves looking suspiciously at anyone who walks through the door, but an attempt to find out who and why is sure to be a great way to alienate the townsfolk. They have to live in this town, after all. 
But who is it? The town gossip who just happens to be there when things go wrong? The girl who cold-heartedly stole the man that Viv was in love with, and who would be happy to see her gone? The tetchy old-school cafe owner and his downtrodden wife across the road? Or is it someone else who is hiding in the shadows, taking every opportunity to destroy their livelihood?
Why?
This time, for Georgie and Scott, the stakes are high indeed. 
This is family.
This is personal.  
BOOK 3: NO GOOD REASON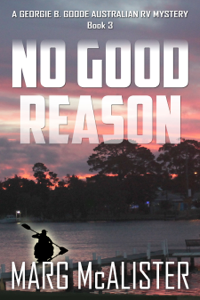 A spoilt rich kid hell-bent on revenge.
A good man about to give up on his dream.
And in the background, a secret that could destroy a family…
It sounds like a good plan to Georgie and Scott: a few days kayaking around the peaceful waters of St. Georges Basin.
But if there is one thing that Georgie has learned, it's that real life tends to laugh at her plans.
A morning's paddle along the canals of Sussex Inlet leads her to an embattled small business owner who can't see a way out. His wife wants him to fight, and when she finds out that Georgie is a bit more than a carnival fortune-teller, begs for her help.
Georgie and Scott, aided by some cryptic insights from Georgie's crystal ball, begin to tug at threads — and when it all starts to unravel, stumble across secrets that powerful people don't want exposed.
And one of those secrets could make their new clients wish they'd never asked for help…
TAMMY DYSON SERIES
Regular readers know that Tammy is hiding something dark in her background. So…just what did happen to cause Tammy to leave her family behind and stay with her aunt? And why did she feel she had no choice but to go back to Louisiana and confront her father and brothers?
BENEATH THE MASK (Book 1)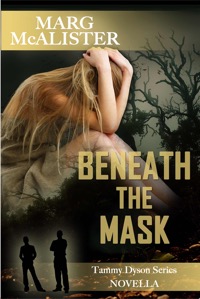 What do you do when you lose the only person standing between you and a psychopath?
On the surface, Tammy Dyson's life is idyllic. Her mother Susannah is bubbly, generous and talented, and her father Danny is highly respected in the community. Her handsome football-hero big brother Garrett is wildly popular, and even 18-year-old Kyle seems to have settled down at last, working for his uncle.
But all is not as it seems… 
Beneath his genial public mask, her father is a cold-hearted con-man, and both of her brothers take vindictive pleasure in tormenting her. All three resent the way Tammy's mother protects her.Then the worst thing imaginable happens: Tammy's mother is diagnosed with terminal cancer.
Tammy is not only heartbroken but increasingly fearful. Her father grows angrier and less predictable by the day, and when nobody else is there to see, her brother Garrett's violence escalates.  Tammy tries to keep things afloat, but as her mother's health deteriorates she finally cracks and phones her aunt Nat to beg for help.
One of the few people who has never been fooled by her brother-in-law's public persona, Nat Arnold immediately makes her way to Baton Rouge to look after her sister in her final days. Keeping her eyes and ears open, she is shocked and angered by what she finds. Racing against time, she becomes embroiled in a dangerous game to expose Danny Dyson and rescue Tammy before things spiral too far out of control.