The Secrets of Creating Unforgettable Characters
Dear Writer,
Are you finding that creating vibrant, lifelike characters is a lot more complex than you expected? If so, you are not alone! Others before you have said, in despair, such things as: 
"My characters just don't come to life. I can see them in my head – but on the page, they seem… wooden, somehow. It's so disappointing."
"I don't know what's wrong. My weakness is in character development – editors have told me that. But I don't know how to fix it."
"How can I make my characters well rounded, yet different from each other?"
These are only a few of the concerns that writers have about creating characters that really come to life on the page. It can be pretty disheartening, I know. I've been there!
In the early days of building my writing skills, I would have wonderful plots and scenarios in my head. I couldn't wait to get them down on the page. YOU know what it's like – you get lost in that wonderful world of the novel, identifying with your characters and plunging right into their world, and before you know it hours have gone flying by.
Then you read it back.
Your feelings of pleasure start to fade. You read it again, wondering why it's not quite working the way you'd hoped. These characters are so real to you you can feel them… but it's just not coming across.
Aaaarrrggghhhh! You stomp off to the kitchen to find something to eat that you don't really need (or maybe a glass of something stronger than water). Maybe you shut a few cupboard doors a bit harder than necessary, or snap at the kids.
Not that any of it does any good. The next day you look at your writing again (yes, after having slept on it) – and you realize in despair that your characters are still two-dimensional.
Their conversation doesn't flow. Their actions seem wooden. And even worse, your main character's attitude seems self-pitying and defeatist.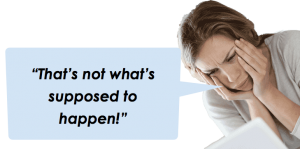 You think gloomily that maybe it's time to give up this writing lark. Huh. Some lark. More like torture.
And maybe for a week… or a month… you do give it up. But before long, you're back at the computer, trying again.
Because really, you just can't toss it all in. It's too much a part of you. Writing is who you are. You've got to keep going.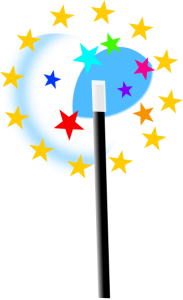 If only you could wave a magic wand and produce a book full of really unforgettable characters… characters that would make an editor jump out of her chair, grab the phone and ring you to say "When can you send the rest?"
Hmmm. Well, magic wands (the ones that work) are few and far between. (Where's Harry Potter when you need him?)
But there's something better than a magic wand.
Better than a 'quick fix'.
Better than having somebody else do it all for you.
There's the satisfaction of understanding just what does make characters work. Knowledge that you can use again and again: a step-by-step plan to creating characters that come to life on the page… a plan that you can follow every time you write a story, so your characters always work!
The thing is, with a plan in front of you – and trouble-shooting checklists to analyze your finished scene – you will have the best possible tools to do the job. Tools that you can use for story after story.
Sounds good?
I thought so. So after surveying writers to find out their needs (and after seven years of being a writing tutor, seeing thousands of scenes and characters!) I decided to put together a course that would walk you through the steps of creating vivid, unforgettable characters.
After writing 5 distance education courses in writing for major educational institutions, having published over eighty books for adults and children, tutoring thousands of students and hosting writers' websites for close to 20 years… I figure I've learned a trick or two to pass on!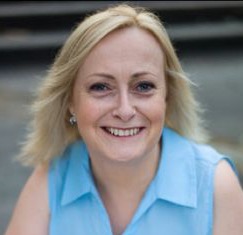 "After Marg reviewed the first 10 chapters of Malicious Intent, I sent them to a major publisher and was offered a two book deal."
Malicious Intent became a bestseller in Australia and has sold to the USA, UK and Canada. All the positive reviews about the strength of the plot and characters reflect on Marg's teaching. Her constructive comments were also mirrored by my editor at Pan Macmillan, which showed how on the ball Marg is about the publishing industry. Without doubt, Marg McAlister is the best writing teacher and mentor any writer could hope for. I'd recommend her courses to anyone wanting to improve their writing." [Kathryn Fox, best-selling author of mystery/thrillers including Malicious Intent and Without Consent, and Private Sydney with James Patterson. www.KathrynFox.com]
This e-course has been designed to get you up and running quickly without taking months of your time. It has also been carefully planned to fit in with you and your specific needs. You can download all course modules at once, and work through them at your own pace.
Use the Self-Analysis Checklists to cast a critical eye over your own efforts, or use them when working with a writing buddy. You'll find that these checklists are useful tools that can be used over and over again!
"BRILLIANT! 

This course will help spark your creativity and add oomph to your characters."
"Entertaining and upbeat, each module offers something special that will help put the fun back into your writing. Marg's tips and techniques will get your brain ticking faster than you can shout 'best seller.' Whether you're a beginning writer or have a few books under your belt, I think you'll find this course a fabulous investment. I highly recommend it." (Jill McDougall, Author with over eighty publications to her credit)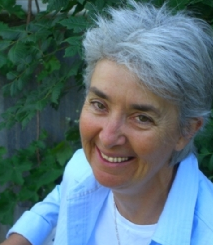 How is the Course Structured?
Length of e-course 
5 modules that you can complete at your own pace.  It might suit you to tackle one each week (especially if you're working your way through the course with a writing buddy or small group, giving each other feedback on writing tasks) or just start at Module 1 and adopt a 'however long it takes' approach, using the Self-Analysis Checklists to assess your progress. Of course, you don't have to do any of the writing tasks… it's entirely up to you.  
Content of e-course:
5 Character training modules. Each module will cover a different aspect of creating characters.

Exercises in each module

to help you master the content taught

5 Writing Tasks

– One to reinforce each week's lesson content. You may choose to exchange critiques on the writing task with a friend, or use the task analysis sheets to assess your own performance.
5 Self-Analysis Task analysis sheets – one for each module. Use these to check your own performance and understanding for the e-course tasks or to create characters for future stories.

End-of-Course Summary Sheet

– this handy 'character cheat sheet' will be an essential tool for any character you create.
Content of Each Character Module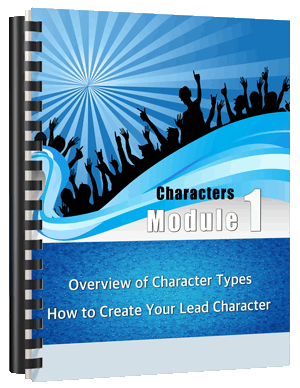 Overview of Character Types and Creating Your "Lead"
Why characters are just as important as plot – and how the two work together

How an understanding of your genre is vital to your character's role

Different types of characters – leads, sidekicks, confidants, villains, cameos and more. Find out which characters you need and how they fit into the plot

Tips on naming your characters – how to find the perfect name

Common problems with characters – the kind that cause readers to close the book! (And how you can avoid them.)

Non-human characters – what to avoid, where to find information

Main character, lead character – what's the difference?

The 4 essential qualities of any lead character

Why you need to think ahead when creating series characters (these tips can save you a lot of angst later!)

Should you create a character profile?

How to be sure of what your characters want – and why this is a key to successful characterization and development of conflict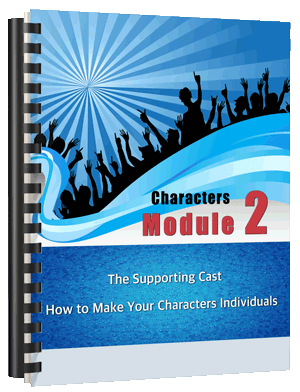 The Supporting Cast!
The importance to the story of each character, and how to make each character an individual.
How to decide on your supporting cast and the role of each character

How far ahead do you need to think? Tips on (a) planning characters ahead and (b) creating characters on the fly

Essential tips on making each character different

Caricatures and 'stock' characters – when to use them, when to avoid them

How much backstory do you need for each character?

How to give just enough detail for each character's role

The secondary character that wants the lead! (What to do if one of the supporting cast wants to take over)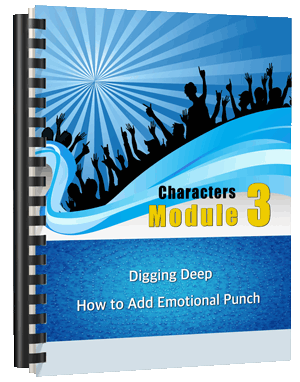 Why Emotional Punch is Vital to Your Success
How to make your characters grow and change | The multi-layered character | Point of view
How you can make a character reach out to the reader

What to do to make your characters likable and real

Why believable motivation is crucial to the success of your characterization – and to the success of your whole novel!

What comes first, motivation or actions?

How to create believable internal monologue for your characters (tips on getting inside your reader's head!)

 The essential factors for character growth and change

How to create a multi-layered character

Point of View – how to use it, and why THIS is the secret to emotional punch

How to make your characters real to YOU – and a useful trick to get to know them quickly!

The pros and cons of using a photo or magazine clipping as a 'model' for your character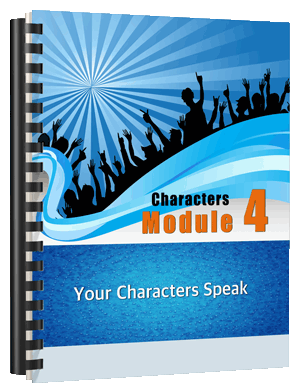 Your Characters Speak
How to avoid stilted dialogue; blending speech, action and thoughts
How to avoid the dreaded "they all sound the same!" syndrome

How to show ethnicity or social class without annoying the reader

How to blend the different elements of dialogue for smooth and convincing conversation – the parts played by direct speech, speech tags, character actions, body language, facial expressions, and even silence!

Formal versus informal speech

Tricks to mimic real speech (yet avoiding the tedium and repetitiveness of real speech!)

How to use dialogue to control pacing

How to use dialogue to heighten tension and suspense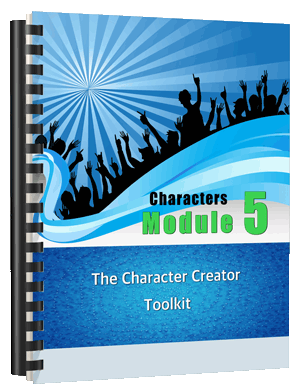 The Character Creator Toolbox
A grab bag of tips and tricks for different characters, genres and age groups…subtle tricks for revealing character
Techniques for bringing your character 'on stage' – how to judge what details to introduce at the beginning, and what to save for later – why the first impression is so important

How to show the character's growth without being obvious or moralistic

Handy tips on technique for revealing character without 'telling' the reader

How to handle a character that is 'a fish out of water' in society without making him/her seem unsociable

Character traits that repel the reader – avoid these and keep your readers!

How to create a 'not so nice' character that the reader will still like! (This is a real challenge – what works, and what definitely does not work!)

A close examination of 'showing, not telling' – what this really means and techniques that work

How you can get to know your characters quickly without spending hours on background

How to handle historical characters – should they interact with well-known historical figures?

The traps of using characters from real life – should you base characters on friends, family, enemies?

As you can see, by the time you work through this e-course you will have a deep and lasting understanding of how to create vivid, unforgettable characters for any story you write!
Commit to Just 5 Weeks of Focusing on Your Characters – and it Could Save You 5 Months (or even 5 YEARS) of Frustration!
Here's how it works:

As soon as you sign up for the SPOTLIGHT ON CHARACTERS e-Course, you will immediately be able to download the bonuses shown below. Your Character Interview Sheet is particularly useful: it will help you get to know your character before the e-Course starts.
You will also be sent a general introduction to the course.

This is a 5-module e-course, which you should be able to complete in 5 weeks or less, allowing time for the writing tasks. Each module will be in the form of a PDF document. We use PDF format because it can be viewed on either Macs or Windows computers, and gives a high quality result when printed.
You can download each PDF individually (handy if you plan to read them on a tablet) or download all the course content at once in one zip file. 
The Self-Analysis Checklists
Each Module has its own Self-Analysis Checklist that will help you assess your performance on the writing task, as well as your understanding of the content of the module. 

The End-of-Course Character "Cheat Sheet"
You will find this invaluable to keep at hand when you are shaping your story people. Keep this and the rest of your course materials handy, and you will find that you are the owner of a "Character Creation Bible" that you can file and keep as a handy reference forever!
Simply by working through this course, you will soak up dozens of invaluable tips on creating memorable characters. But the information in it will be an essential resource that you'll want to have at your fingertips whenever you need it.
If ever you get stuck with a character that's not working for you, just read through the notes, whip out your Self-Analysis checklists and before you know it, you'll have the problem sorted. Now that's peace of mind!
What is it worth to you to be able to create characters that readers hate to leave behind?

What is it worth to you to be able to create characters that win the hearts of editors – the people who have your writing career in their hands?

What is it worth to you to have a total, deep understanding of how to create characters that are so real that people are queuing up for your next book?
These things are priceless.
BUT…that's not all you'll get out of doing this e-course! I have some special bonuses for you.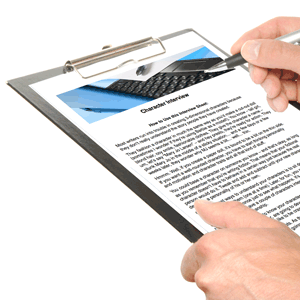 BONUS 1
The Character Interview Sheet
What questions do you need to ask your characters to make sure you really know what makes them tick? All the questions you need and how to interpret the results!
Previous students have found that the character interview process gives them insights into their characters beyond what they'd thought possible! The results will surprise (and delight) you. And best of all…it's fun!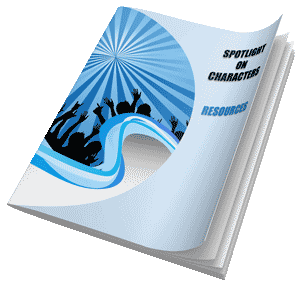 BONUS 2
Useful Resources for Creating Your Characters
An e-book of great resources for writers to help you get your characters just right.
You'll find both website links and relevant articles on everything from coming up with names to gradually building characters!.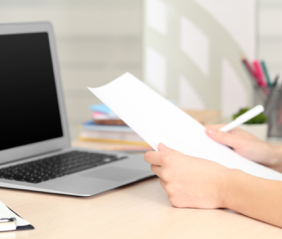 BONUS 3
End-of-Course Character Cheat Sheet 
You'll love this one. As soon as the course is finished, you receive this handy character creation 'cheat sheet'. It's super-easy to measure each character against a set of criteria before you get in too deep! (Delivered at the conclusion of the course.)
MORE RESOURCES:
Course Bonus!
When you sign up for this course, you will receive a 'welcome' email with a coupon to get any of the Busy Writer books (including the boxed sets!) at 70% off. 
SIGN UP NOW FOR  SPOTLIGHT ON CHARACTERS

The SPOTLIGHT ON CHARACTERS e-course was originally priced at $195. Sometimes, it was less, if I was running a time-limited special – or writers could sign up for both SPOTLIGHT ON CHARACTERS and SPOTLIGHT ON PLOTTING at the same time, and get a discount for the Combo course. This price included my personal feedback on the writing tasks in each module. 
This has now changed – and YOU are the winner. I've decided to spend most of my time focusing on writing and marketing my fiction, but I don't want to pack away my flagship courses in some dark digital cupboard. Too many hours and too many years of experience have gone into them to let them fade away. 
So allow me to present to you the 2022 version of SPOTLIGHT ON CHARACTERS, all shiny and new and up to date. Given the rock-bottom pricing (see below) there will be no personal feedback. Instead, I'm providing Self-Analysis checklists to test your understanding of each module and the Writing Tasks – and I strongly encourage you to do the course with a writing buddy, so you can discuss the course content and critique each other's work.
With this course at your elbow, you will be armed with the tools to help you come up with vibrant, interesting characters in all your stories. Characters that will help to convince your readers that they simply can't miss your next book!
The price? Close to unbeatable! You get to choose what you want to pay, with a "cup of coffee" bottom line. These are uncertain times, and hundreds of thousands of people have been forced into lockdown against Covid-19, or lost their jobs, or have had to scratch out a living on a severely reduced income. A good many of those people are looking for ways to earn money while working from home… and hundreds are thinking about maybe writing a book. They're just not sure where to start… and it's a gamble to risk savings on a course.
Now… you can get the information without the risk.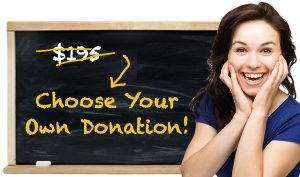 YES! I'd love to do this course. I choose to donate:
(Use PayPal or a credit card)
I look forward to hearing about your success!
Cheers,
Marg